A Timeless Journey: "Roman Holidays"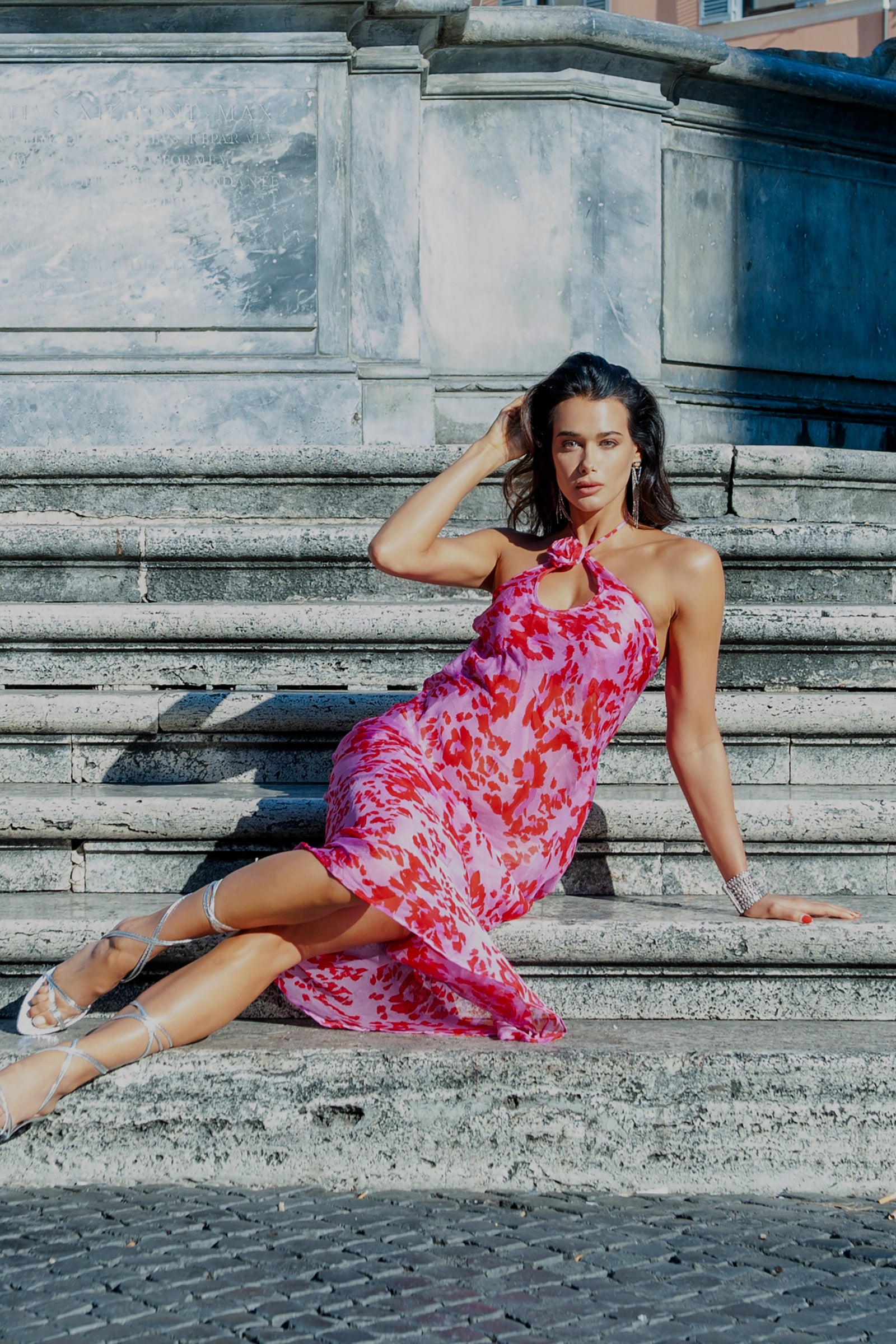 Imagine strolling along the cobbled streets of Rome, where every corner tells a story, and history comes alive amidst the backdrop of timeless elegance. It's in this iconic city that K&I's latest collection, "Roman Holidays," was born. Comprising eight exquisite designs that include dresses, top and skirt sets, and top and pants sets, this collection captures the essence of Rome's rich heritage and enduring style. Each piece is a testament to the fusion of tradition and modernity, offering a glimpse into the eternal beauty of the Eternal City.
Pink Leo Rosette Dress
Crafted from 100% luxurious chiffon silk, this dress embodies the perfect blend of sophistication and flair. The eye-catching leopard red and pink chiffon design adds a playful yet chic touch, perfect for capturing the essence of Rome's vibrant streets. The bias cut ensures a flattering fit, while the side zip allows for easy wear. The cross-chest neckline, adorned with rosette chiffon appliqué, creates a captivating focal point, making this dress a true masterpiece that effortlessly transitions from day to night.
Flirty Plumes Black Set
Prepare to turn heads with our "Flirty Plumes Set," an exceptional ensemble that's as bold as it is sophisticated. This outstanding black top and skirt set features exquisite feather fringe details at the bottom of both the top and skirt, adding a flirty and playful flair to your look. This outstanding set is completed with meticulous hand-beading, with crystals, sequins, and baguette beads adorning every inch.
Tunic Rings with Feathers
A piece that combines relaxed comfort with undeniable glamour. This tunic offers a flowy and loose fit, making it the perfect choice for leisurely strolls through Rome's charming streets. The standout feature of this design is the feather details adorning the sleeves, adding an enchanting touch of drama. The deep V neckline, enhanced with ring details, creates a captivating focal point, making this tunic a versatile choice for both daytime explorations and evening soirées. Available in a striking fuchsia leopard print, it's a bold and stylish addition to your Roman holiday wardrobe.
Dress Hailey Black-Silver
Crafted from 100% rayon fuyette shell, this dress boasts a luxurious texture and a flattering silhouette. The entire dress is fully hand-beaded with round and drop-shaped sequins, creating a dazzling effect that captures the essence of Rome's enchanting nights.
The size zip ensures easy wear, while the lace back details on the cut-out back add a touch of romance and allure. Whether you're dining in a candlelit trattoria or attending a glamorous event in the heart of Rome, this dress is your perfect companion for a night filled with Italian charm and timeless beauty.
Terry Zebra Set
The lightweight cotton terry fabric ensures comfort during your Roman adventures, while the thoughtful design details elevate your look.
The pants feature front slant pockets and an elastic waist, providing both convenience and style. What truly sets them apart is the hand-beaded studs and beads adorning the sides of the legs, adding a touch of glamour to your casual wear.
The shirt, with its short sleeves and black rib neck, exudes a relaxed yet refined vibe. The elastic waist at the bottom offers versatility in how you style it. Hand-beaded studs and beads on the arm openings create an eye-catching accent that complements the pants.
Circle Plus Black Dress
An elegant piece that embodies both grace and style, this dress is designed to make a statement.
Unlined for a touch of intrigue, this dress features a lycra modal bra that is a work of art in itself. Hand-beaded with crystals and sequins, the bra adds a dazzling focal point to the dress. A silver metal buckle for the bra not only provides a secure fit but also serves as a chic accent.
Whether you're enjoying a romantic dinner by the Colosseum or attending a stylish event in the heart of Rome, this is the epitome of Italian-inspired fashion that's as sophisticated as it is unique.