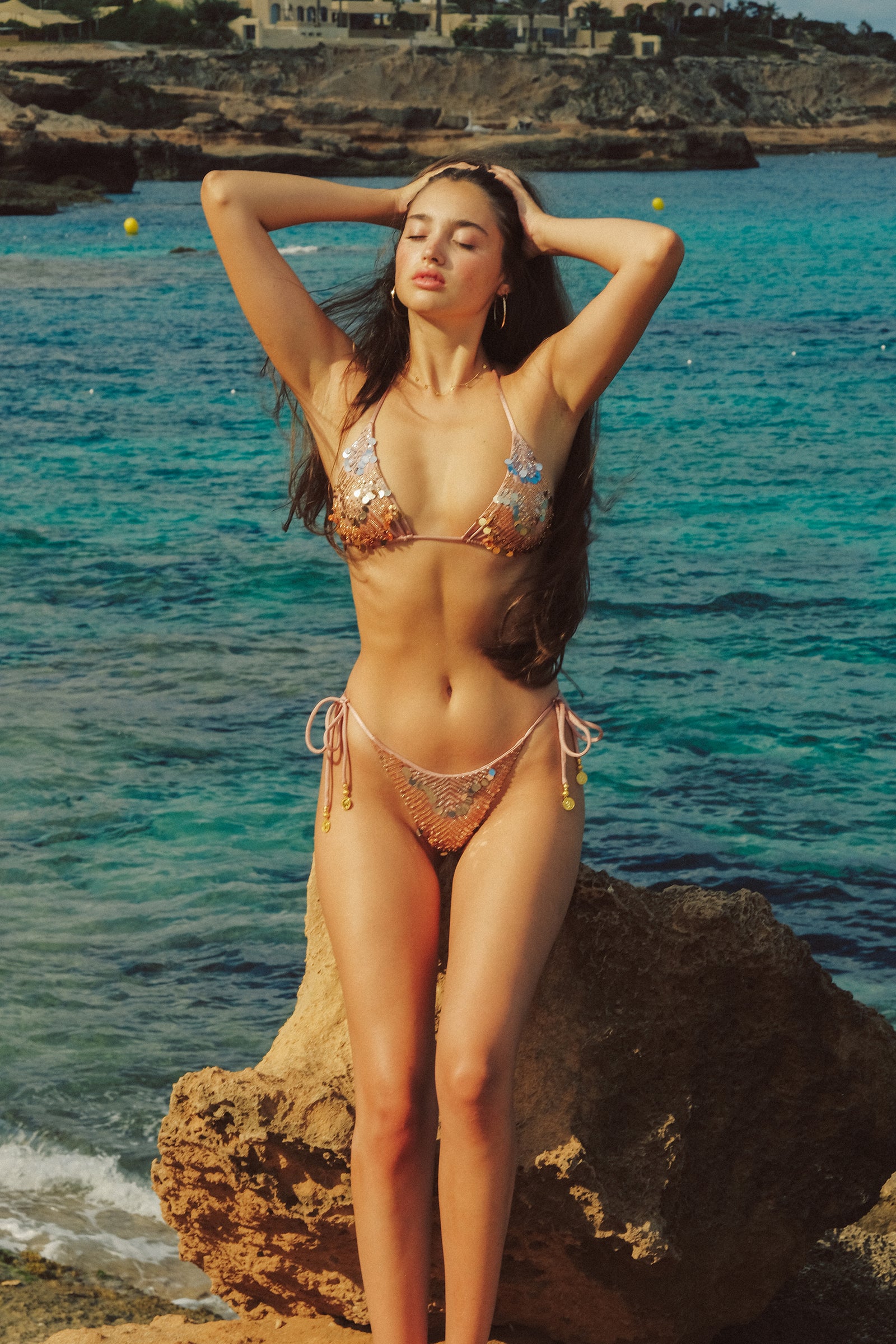 Picture yourself on the sun-kissed shores of Ibiza, surrounded by the azure waters of the Mediterranean, and a vibrant energy that's infectious. It's in this paradise that K&I's latest collection, "The Ibiza Escape," was born. This collection, featuring six stunning designs primarily focused on bikinis, captures the spirit of this legendary island. Whether you're lounging by the pool, dancing the night away in a beach club, or exploring Ibiza's picturesque villages, "The Ibiza Escape" by K&I has you covered in style. Join us on a journey through this exquisite new collection, where each piece embodies the essence of Ibiza's carefree yet glamorous vibe.
Trikini Las Vegas Black
This swimwear defies convention with its unique trikini cut, featuring striking side openings that elevate your beach look to a whole new level of chic. The top is adorned with exquisite hand-beaded geometrical motifs that catch the sunlight as you lounge by the pool or stroll along the sandy shores of Ibiza. With adjustable self-ties on the neck and sides, you can customize the fit to suit your style and comfort.
Paisley Blue Bikini
The stunning blue hue mirrors the captivating Mediterranean waters, making it the perfect choice for seaside getaways. The bikini features a delightful print pattern that adds a touch of artistry, while hand-beaded sequins on the front create a dazzling focal point. Each cup and the bottom are adorned with three ring details, infusing the design with a playful and fashionable edge.
Bikini Gold Digger Nude
This bikini redefines elegance with its understated nude color palette while ensuring you stand out with captivating hand-beaded sequin details. What sets this swimwear apart is the masterful combination of various sequins, creating a mesmerizing and unique look that catches the light in the most enchanting way.
Bikini HW Leo Mix Green
With adjustable tie fit, you can customize the bikini to your liking, ensuring comfort and style as you soak up the sun in Ibiza.
Hot Pants Miami Green
These shorts are designed to make heads turn with their striking geometric design, hand-beaded with sequins and beads that catch the sunlight and create a dazzling effect. The low waist fit adds a touch of contemporary edge to your look, allowing you to show off your confidence and style. "Hot Pants Miami Green" are not just shorts; they're an expression of individuality and a must-have for those who want to make a statement wherever they go, be it the beaches of Ibiza or the bustling streets of Miami.
Skirt Zebra Avion Blue
For a fashion-forward statement that's both chic and bold, look no further than our "Skirt Zebra Avion Blue." This skirt is a true work of art, featuring a striking zebra print motif that's entirely hand-beaded with sequins. The dazzling blue hue captures the vibrant spirit of Ibiza while adding a touch of glamour to your ensemble. With a side closure zip and a stretch fit, it's as comfortable as it is stylish.