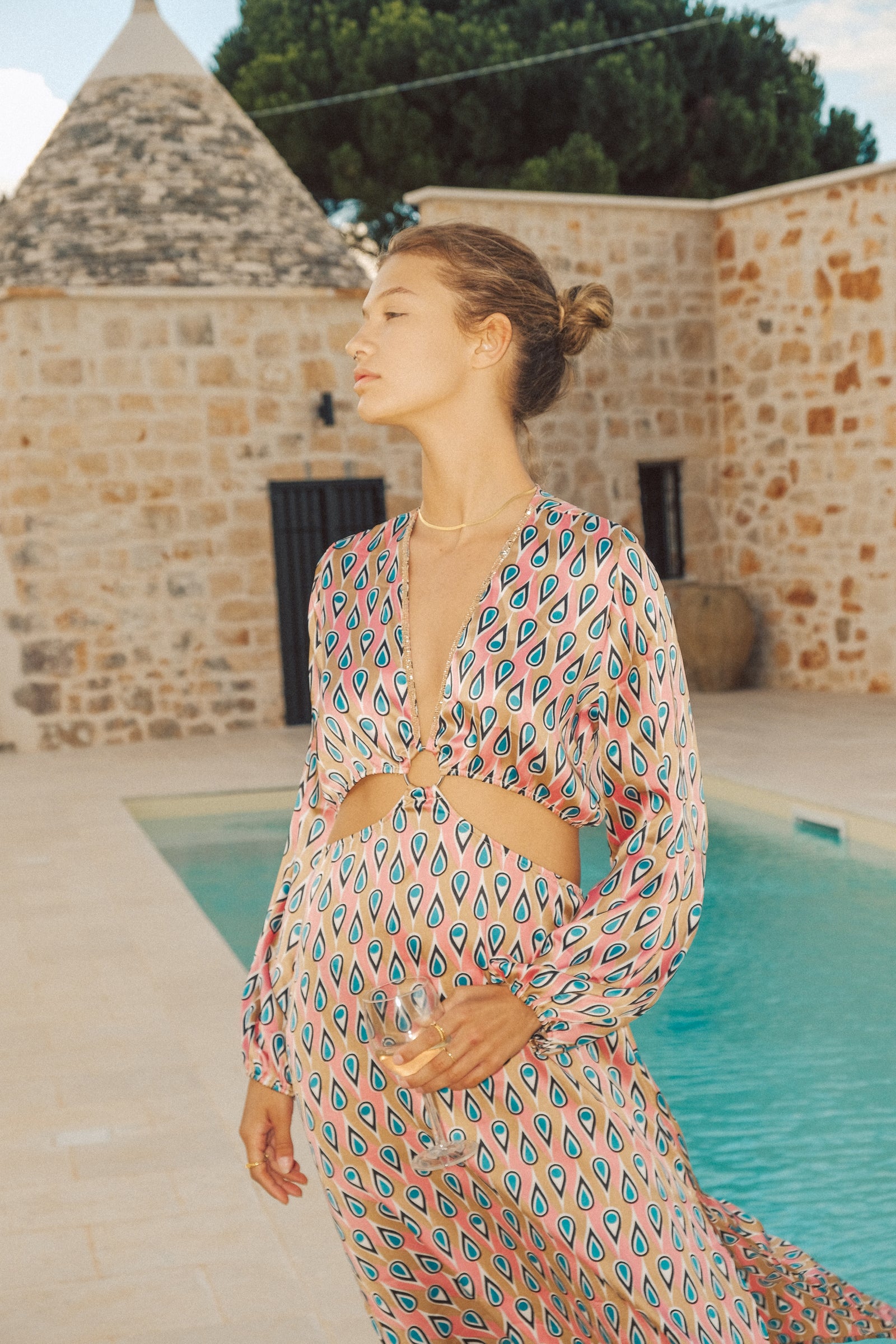 Inspired by the sun-soaked landscapes, charming coastal villages, and the relaxed sophistication of Puglia, Italy, "The Puglia Vibes" collection by K&I is a celebration of the region's timeless allure. Each of the six carefully curated designs in this collection is a testament to the essence of Puglia. Join us on a journey through this exquisite new collection, where each piece embodies the spirit of this enchanting Italian region.
Cut Out Diamond Dress 
Crafted for both style and comfort, this dress boasts a flowy silhouette that captures the essence of relaxed sophistication. It's the perfect choice for those seeking an effortlessly chic look, whether you're exploring the coastal villages of Puglia or savoring a sunset by the sea.
Tunic Ring Feathers
"Tunic Ring Feathers" black dress—a statement piece that redefines the classic LBD. This dress is anything but ordinary, boasting unique and eye-catching details. The fluffy feather accents on the sleeves add a touch of playfulness, while the deep V-neckline, adorned with ring details, exudes effortless sophistication.
Dress Florence
The dress features a striking triangle neckline adorned with intricate bead and sequin embellishments, showcasing attention to detail. What sets this dress apart are the luxurious gold chain adjustable straps, allowing you to customize the fit for your comfort and style. Whether you're attending a formal event or seeking to make a statement on a night out, the "Florence Dress" is your go-to choice for a look that's as exquisite as it is unforgettable.
Tunic Ring Paisley 
Comfort and style in perfect harmony with our "Tunic Ring Paisley" dress. Designed with a loose, relaxed fit, this dress offers a delightful blend of comfort and fashion-forward design. The hand-beaded paisley print, adorned with vibrant and rich colors, adds an element of artistic charm to your ensemble. The deep V-neckline with ring details creates a captivating focal point, making it an ideal choice for both casual gatherings and more formal occasions.
Bikini Crystal Blue
The ultimate choice for your summer vacation in Italy. The name says it all—this bikini embodies the crystal-clear waters and vibrant skies of the Mediterranean. With its stunning bright blue hues, this two-piece swimsuit is an homage to the beauty of the Italian coast. Featuring intricate bead and sequin embellishments that catch the sunlight as you bask in the Italian sun. With "Bikini Crystal Blue," you'll effortlessly blend in with the stunning seaside scenery while standing out as a vision of summer elegance.
Bikini Tiger Orange
For the bold and the daring, This two-piece bikini embraces a vibrant tiger pattern that exudes confidence and unique style. Designed to make a statement, it's the perfect choice for those who aren't afraid to stand out.